Mitigation Program
Read the Mitigation Minute Newsletter Here
Regional Mitigation Plan Website
Mitigation is defined by FEMA as "...sustained action that reduces or eliminates long- term risk to people and property from natural hazards and their effects." It describes the ongoing effort at the Federal, State, Tribal, local, and individual levels to lessen the impact of disasters upon communities, infrastructure, and the economy.
Disasters can happen at anytime and anyplace; their human and financial consequences are hard to predict, and the number of disasters each year continues to increase. Since disaster mitigation is the effort to reduce loss of life and property by lessening the impact of disasters it is imperative that we all understand community/regional/and state-wide risks and invest in long-term community well-being.
Mitigation includes not only minimizing or avoiding  development in high hazard areas within the community,  but also working to ensure  existing development in hazard-prone areas is safer.
 2018 STATE OF MONTANA MULTI-HAZARD MITIGATION PLAN
CURRENT MITIGATION FUNDING OPPORTUNITIES
(Click below to see the current funding opportunities and deadlines)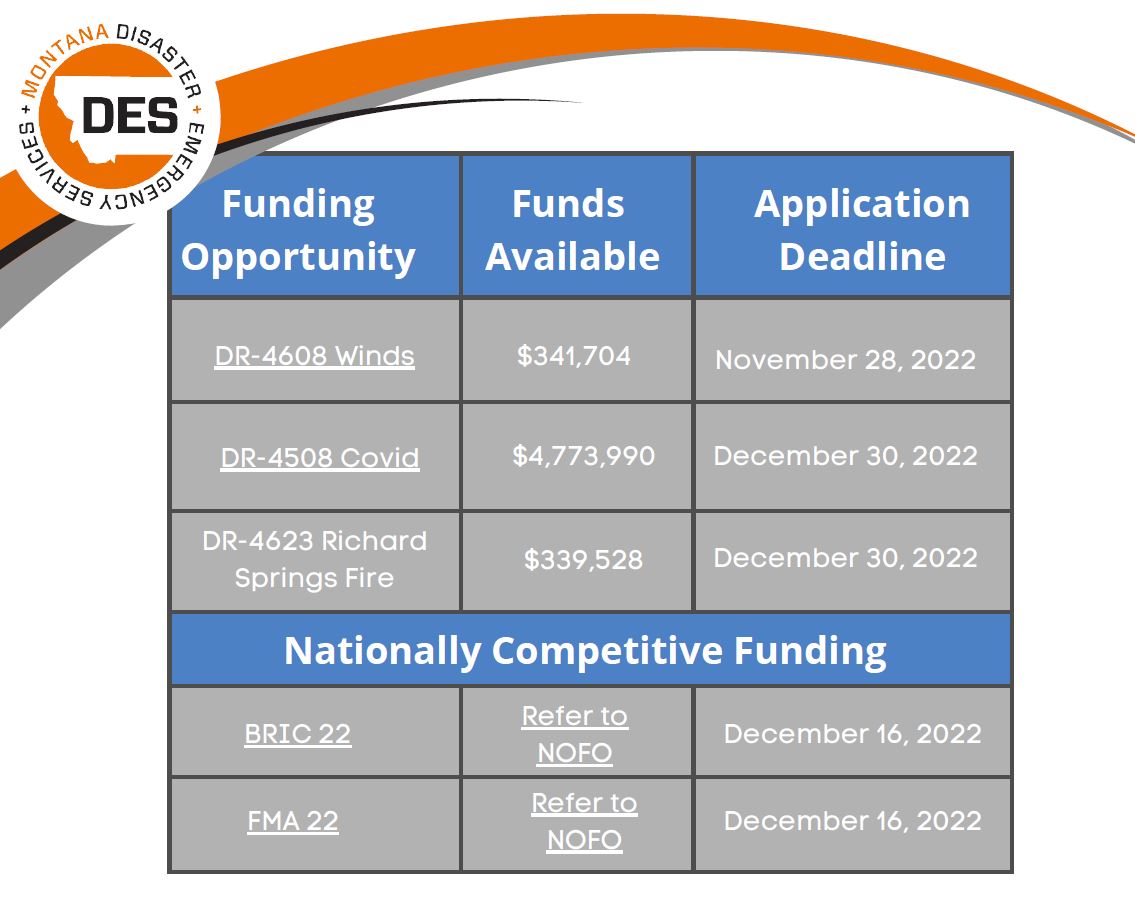 RESOURCES FOR THE JUNE 2022 FLOODING EVENT
DR-4655 MONTANA GREEN SHEET
FLOODPLAIN GUIDANCE
NHPA COMPLIANCE MEMO - MT BORROW PITS
HAZARD MITIGATION WEBINAR SERIES
FEMA is hosting a series of webinars regarding Hazard Mitigation. For their list of webinars and list of dates, please follow THIS LINK to the Hazard Mitigation Assistance 2022 Summer Engagement Series.
OTHER RESOURCES
HAZARD MITIGATION ASSISTANCE GUIDANCE (PDF Document)
     FEMA Hazard Mitigation Assistance Guidance - Addendum
AVOIDING APPLICATION PITFALLS (PDF Document)
MITIGATION IDEAS (PDF Document)
FEMA Mitigation Action Portfolio
Promoting Nature Based Hazard Mitigation Through FEMA Mitigation Grants (05-10-2021-LR)
FEMA - Building Community Resilience With Nature-Based Solutions - 2021
Mitigation News